Paytm Founder Vijay Shekhar Sharma On 100 Most Influential People List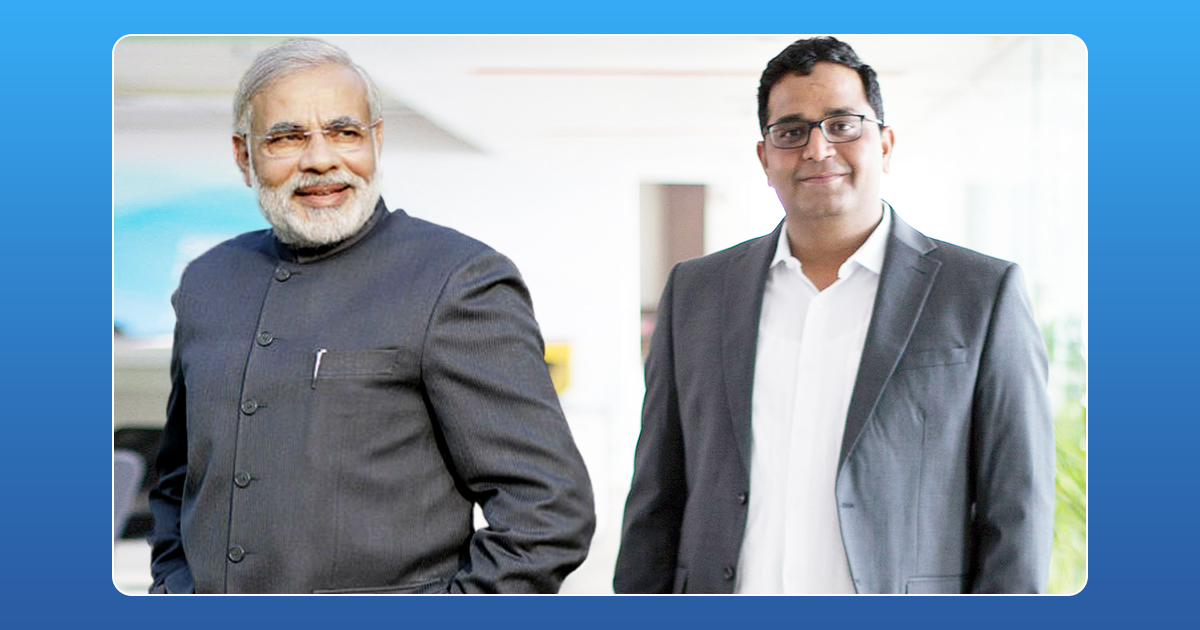 On Thursday, The Times released its annual 100 Most Influential People in the world in 2017 and two Indians made their entry onto this list – PM of India, Shri Narendra Modi, and Paytm's founder Vijay Shekhar Sharma.
The 43-year-old Cheif Executive of the Indian mobile payments platform is the only Indian entrepreneur to be featured on the 2017 list.
This list also included US President Donald Trump, actor Emma Stone, philanthropist Melinda Gates, WikiLeaks founder Julian Assange, Amazon CEO Jeff Bezos, President of Russia Vladimir Putin, CEO, and founder of Snapchat Evan Spiegel.
The Times magazine has featured a list of pioneers, artists, actors, titans, leaders and icons from all around the world. Vijay Shekhar was listed under the titan category followed by Jeff Bezos. It was in March this year, Sharma was ranked as India's youngest billionaire by Forbes magazine, as his net worth is $1.3 billion.
Infosys co-founder Nandan Nilekani, who wrote Sharma's profile was all praises for the Paytm founder. He said: "When Modi government announced (the) Demonetisation act in November, Sharma seized that moment and with a flurry of ads he encouraged people to start using the Paytm's (sic) digital wallet platform to pay for every day's goods and services."
Seeing his performance in the Indian economy market, Alibaba's Jack Ma is now an investor in Paytm. Vijay Shekhar Sharma shared his happiness on Twitter.
So privileged that @NandanNilekani has written this. 🙏🏼🙏🏼 and thank you @TIME for making this sound so big 🙂 https://t.co/Li6rdoqj4I

— Vijay Shekhar (@vijayshekhar) 20 April 2017
Check out the 2017's full list of 100 Most Influential People in the world
Biram Dah Abeid, Mauritanian politician, activist

David Adjaye, architect

Riz Ahmed, actor

Thelma Aldana, Attorney General of Guatemala

James Allison, immunologist

Guillem Anglada-Escudé, Natalie Batalha and Michaël Gillon, astronomers

Julian Assange, founder of WikiLeaks

Margaret Atwood, novelist

Stephen Bannon, White House Chief Strategist

Cindy Arlette Contreras Bautista, activist

Samantha Bee, actor, comedian

Fatou Bensouda, Chief Prosecutor, International Criminal Court

Jeff Bezos, CEO, Amazon

Simone Biles, gymnast

Bob Bland, Tamika Mallory, Carmen Perez and Linda Sarsour, organizers, Women's March

Jason Blum, director

Tom Brady, football player, New England Patriots

Gretchen Carlson, advocate for workplace equality, former Fox News anchor

Chance the Rapper, rapper

George Church, geneticist

James Comey, director, FBI

James Corden, host, The Late Late Show with James Corden

Viola Davis, actor

Rodrigo Duterte, President of the Philippines

Ava DuVernay, director

Daniel Ek, co-founder, and CEO, Spotify

Theo Epstein, president of baseball operations, Chicago Cubs

Recep Tayyip Erdoğan, President of Turkey

Fan Bingbing, actor

Bob Ferguson, Attorney General of Washington

Melinda Gates, philanthropist

Donald Glover, actor, writer, rapper

Ashley Graham, model

Glenda Gray, physician, and researcher

Kirsten Green, founder, Forerunner Ventures

Gavin Grimm, activist

Demis Hassabis, artificial intelligence pioneer

LeBron James, basketball player, Cleveland Cavaliers

Barry Jenkins, director

Leslie Jones, comedian, actor

Colin Kaepernick, football player

Alicia Keys, singer

Kim Jong Un, Supreme Leader of North Korea

Jared Kushner, White House senior adviser

John Legend, singer, songwriter

John Lewis, U.S. Congressman, 5th District of Georgia

Leila de Lima, Philippine opposition senator

Jean Liu, president, Didi Chuxing

Demi Lovato, singer

Barbara Lynch, chef, restaurateur

Kerry James Marshall, artist

General James Mattis, Secretary of Defense, U.S.

Theresa May, Prime Minister of the United Kingdom

Conor McGregor, mixed martial artist

Rebekah Mercer, Republican donor

Alessandro Michele, designer, Gucci

Narendra Modi, Prime Minister of India

Neymar, soccer player

Sandra Day O'Connor, former Supreme Court Justice, founder, iCivics

Sarah Paulson, actor

Jordan Peele, actor, comedian, filmmaker

Tom Perez, chairman, Democratic National Committee

Ben Platt, actor

Pope Francis, Pontifex

Reince Priebus, White House Chief of Staff

Vladimir Putin, President of Russia

Ryan Reynolds, actor

Margot Robbie, actor

RuPaul, television personality

Raed Saleh, head of Syria's White Helmets

Juan Manuel Santos, President of Colombia

Chuck Schumer, U.S. Senator, New York

Vijay Shekhar Sharma, entrepreneur, founder, Paytm

Ed Sheeran, singer, songwriter

Cindy Sherman, photographer

Raf Simons, designer, chief creative officer, Calvin Klein

Qasem Soleimani, commander of Iran's Quds Force

Evan Spiegel, CEO, and co-founder, Snapchat

Emma Stone, actor

Donald Trump, President of the United States

Ivanka Trump, White House special assistant

Dr. Celina Turchi, infectious disease expert

Bernard J. Tyson, CEO, Kaiser Permanente

Hamdi Ulukaya, entrepreneur, CEO, Chobani

King Maha Vajiralongkorn, King of Thailand

Guus Velders, atmospheric chemist

Margrethe Vestager, antitrust czar, European Union

Jeanette Vizguerra, activist

Wang Qishan, senior leader, Communist Party, China

Elizabeth Warren, U.S. Senator, Massachusetts

Colson Whitehead, novelist

Constance Wu, actor

Xi Jinping, President of the People's Republic of China, General Secretary, Communist Party, China

Janet Yellen, chair, Federal Reserve


Yuriko Koike, Governor of Tokyo
Discover Kheyti, The Startup Changing The Lives of Farmers In India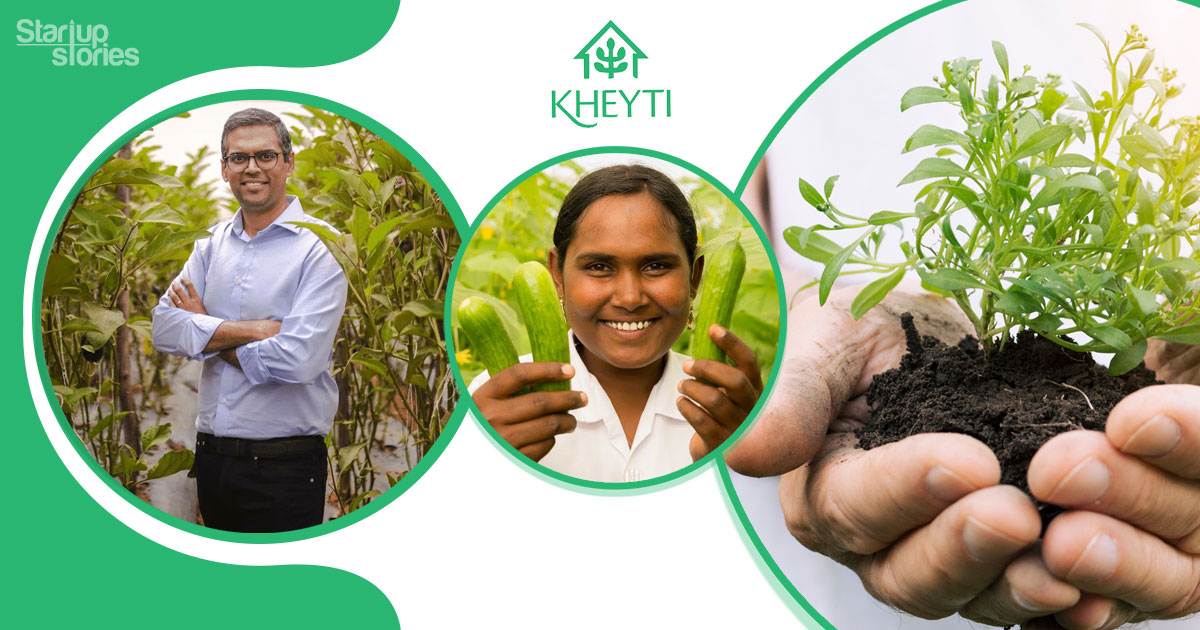 Farming has been an integral part of India's history and culture for ages. It's been the foundation of the Indian economy, supporting millions of people with food and jobs. Crops and agriculture hold immense importance in Indian society, not just in terms of money, but also in terms of culture, community, and spirituality.
Farming is a way of life for many people in India, but it can be a difficult and unpredictable business and farmers face a number of challenges, from erratic weather patterns to low market prices for their crops. Kheyti is a social enterprise founded in 2015 by Saumya, Kaushik Kappagantula, and Sathya Raghu. The organisation provides sustainable solutions to small farmers in India, helping them overcome challenges and improve their lives.
Kheyti's flagship product is the "Greenhouse-in-a-Box," a low-cost modular greenhouse that allows farmers to grow high-value crops year-round, even in unfavourable weather conditions. operates on a subscription-based model, where farmers can purchase a "Greenhouse-in-a-Box" kit or sign up for crop advisory services on a monthly or annual basis. Kheyti.com also earns revenue by connecting farmers with markets and buyers, taking a small commission on sales. They work to keep the costs low by partnering with local manufacturers to produce their products and leveraging tech to provide personalised crop advisory services at scale.
They also provide crop advisory services to farmers, offering personalised advice on crop selection, planting, and management. In total, The company has helped over 6,000 small farmers increase their incomes by an average of 300%. You call them small farmers, Kheyti calls them Smart farmers!
While there are other companies in India that offer similar solutions to small farmers, Kheyti stands out for its focus on sustainability, innovation, and community involvement. It works closely with farmers to develop tailored solutions that meet their needs while focusing on sustainable farming practices. Through its efforts, Kheyti has improved soil health, reduced water usage, and increased yields of various crops.
Looking ahead, Kheyti plans to expand its reach to more farmers in India and beyond and aims to continue developing new products and services that can help small farmers overcome the challenges they face. With its commitment to sustainability and innovation, The visionaries at Kheyti claim it has the potential to transform the agricultural sector and contribute to a more equitable future for all.
Imagine the joy and hope Kheyti brings to struggling farmers in India. With Kheyti's help, over 6,000 small farmers have transformed their lives, becoming Smart farmers who handle challenges and succeed. With sustainable solutions, Kheyti is not only revolutionising agriculture but also spreading hope for a brighter future.
Leher Versus Clubhouse: Which Audio Listening Startup Would You Choose?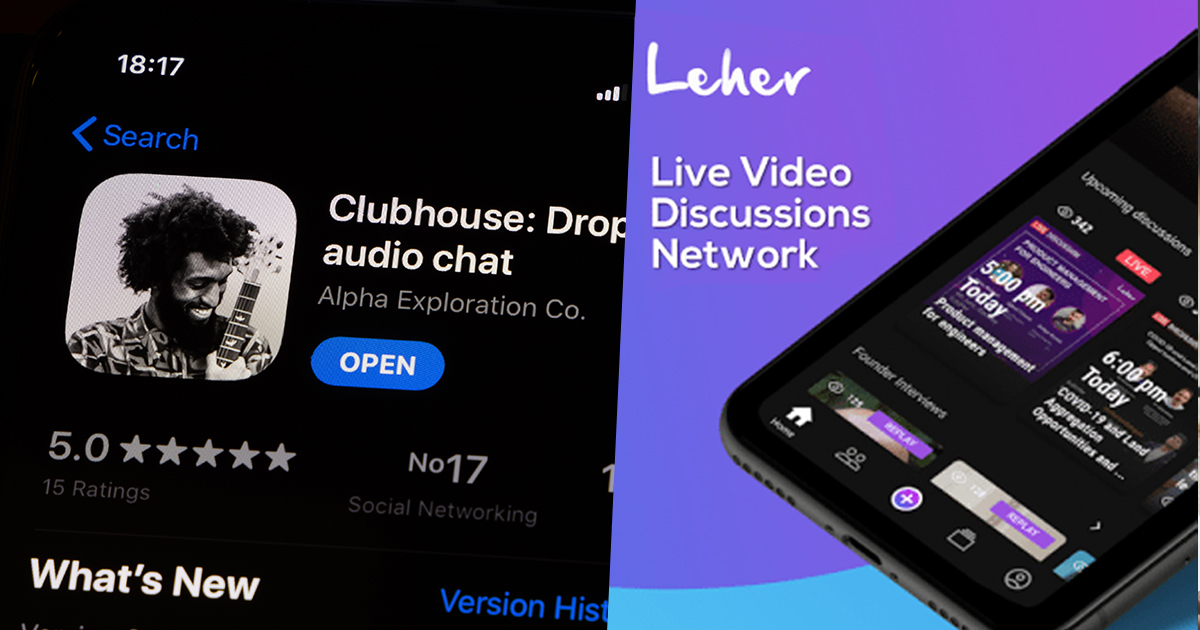 Clubhouse is a new type of social networking platform which is an audio only platform.  This means every conversation takes place through audio where users speak to let their thoughts known.  Users can create and host rooms where speakers will talk about a particular topic.  Originating in the Silicon Valley, Clubhouse attracted some major names onto its platform like Elon Musk, Evan Williams, Reddit co founder Alexis Ohanian, former Y Combinator President Sam Altman, AngelList co founder Naval Ravikant, Ashton Kuthcer, Oprah Winfrey, Drake, Kevin Hart and many others are some of the influential personalities who are on Clubhouse.  There is however a catch as Clubhouse is currently limited to iOS.
Leher is an Indian made alternative to Clubhouse and is a similar audio sharing and listening startup.  Leher also has video support unlike Clubhouse and is also available for both Android and iOS.  However, Leher does not have the biggest names in the world on its platform but it does have significant micro influencers and is growing at a rapid pace.  Within 180 days of its beta version launch, the company claimed to have its users spend about 44 minutes every day and 250,000 minutes per month for live video sessions.
We at Startup Stories are curious to see which among Leher or Clubhouse would our readers choose to take part in a virtual discussion.  Please let us know your answer in the poll below.
Why Are Ads On Digital Media Failing To Reach The Right Audience?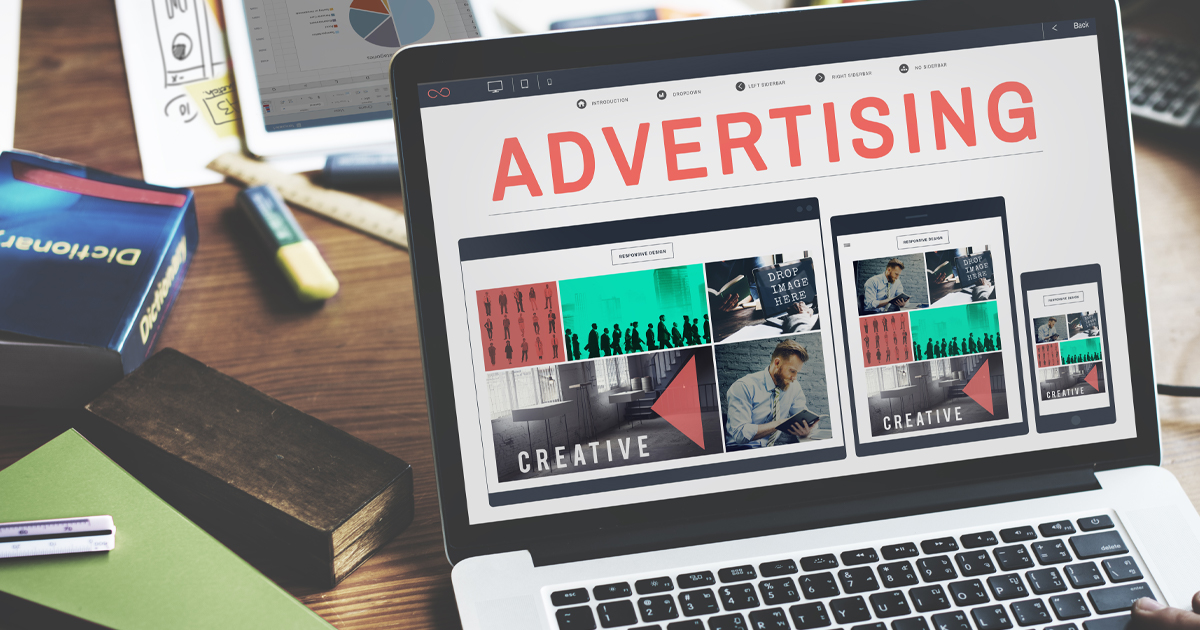 If you are a regular user of social media platforms and also a fan of consuming content on the digital medium, then there is a very high likelihood that you have seen ads on pages you are reading or watching something.  There would be times when you have been targeted by an ad which feels like it was wrongly targeted at you.  Imagine if you are a vegetarian by choice and while browsing online, if you are targeted by a food delivery app which shows ads about chicken dishes.  The ad would only serve to spoil the mood of the online user instead of serving its actual purpose which is to push the user to buy a chicken dish.
These wrongly targeted ads might be the side effects of performance marketing or a weak brand marketing.  Performance marketing means advertising programs where advertisers pay only when a specific action occurs. These actions can include a generated lead, a sale, a click, and more.  Inshort, performance marketing is used to create highly targeted ads for a very specific target audience at a low cost.  Performance marketing usually means high volume for a very specific cost.  
Brand marketers on the other hand believe in narrowly defining target audiences but end up spending a lot of money on ad placements.  Gautam Mehra, CEO, Dentsu Programmatic India & CDO, Dentsu International Asia Pacific said, "You've defined a persona, you know the emotions you want to elicit, but then you buy a YouTube masthead and CricInfo sponsorships because IPL is up.  If brand advertisers look at audience-based buys more deeply than just placements, you will see more relevant ads (sic.)"  
ALSO READ: How Digital Marketing Is Impacted Due To The COVID-19 Pandemic
Performance marketing is more of a sales function rather than a marketing function and is about meeting the cost of acquisition.  This is a reason why budgets are usually high for performance marketing.  Mehra goes on to add, "the fact is that an engineer can out-beat FMCGs on performance marketing.  Advertisers who have cracked this are spending 10x and are on an 'always on' mode (unlike time-bound brand campaigns.)"
There is always the case of supply and demand, with the supply usually exceeding the demand on digital platforms.  Ultimately, it boils down to the choice between no ad versus low relevance ad and it is quite easy to guess that having a low relevance ad is better.  
Arvind R. P., Director – Marketing and Communications at McDonald's India (West and South,) said "McDonalds' for instance, has seen its share of spends on digital grow from 20% levels a couple of years back to over 40% at present.  Outcomes of this journey have been encouraging, proven by our media-mix-modelling and other key metrics.  We have seen best results from an optimal mix of Television plus digital (sic.)"  Moreover, Arvind also believes performance marketing only approach could turn out to be more suited to short term, versus a more consistent full funnel effort.  The latter ensures adequate emphasis on building consideration, as well as growing transactions.  Arvind feels digital is a complex medium which needs investment in the right talent who could use the right tools.  Brands which underestimate the need for the investment are often disappointed from the return on investment from the digital medium.
With the constantly changing consumer dynamics marketers are now shifting to unscripted marketing which frankly needs more insights into the consumer mindset.  The lack of marketers to do the proper research is why digital medium is plagued with irrelevant ads.