Startup 5K Run 2018 By Startup Leadership Program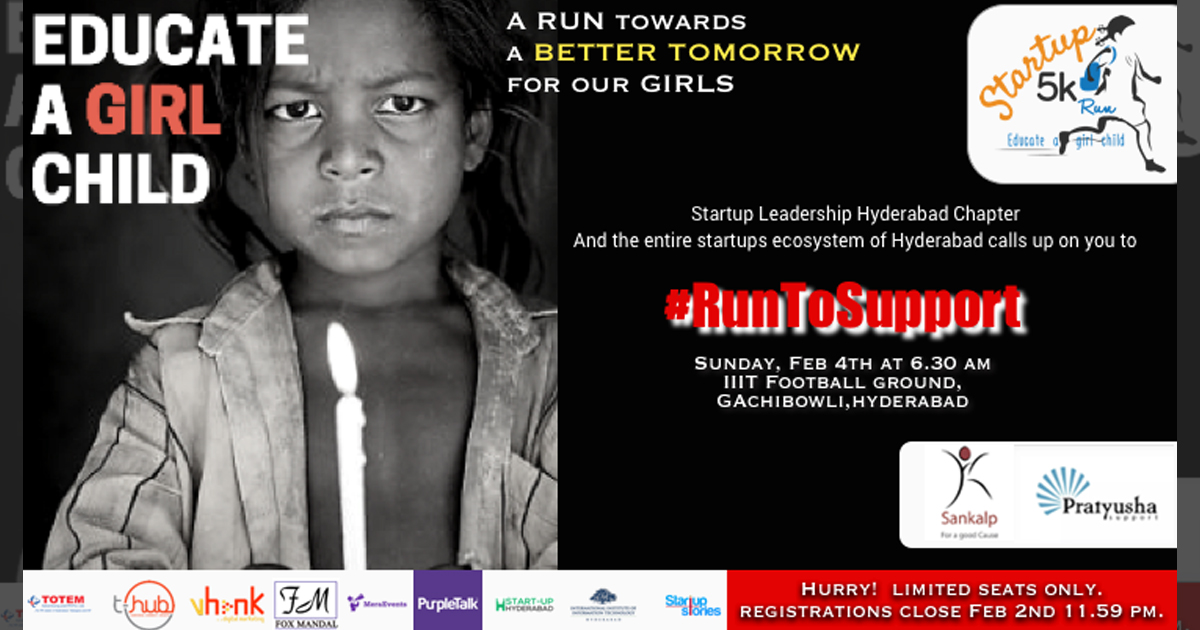 The Startup 5K Run 2018 is a one of its kind startup event organized by Startup Leadership Program (SLP) to support the benevolent cause of Girl Education. One of the largest startup Marathon to be conducted in India, the 5K run is an annual startup run held in Hyderabad and 5 other cities. The run aims to create awareness and raise funds for girl education and welfare of women in India and work for the #BetiBachao #BetiPadhao initiative.
The Startup Leadership Program is a highly selective training program for outstanding entrepreneurs which has funded close to 1600 successful startups to date. The 5K run provides a unique platform for aspiring entrepreneurs, exceptional founders, talented innovators and ambitious students in India to come together and run for a great cause, towards creating a more progressive India.

This year, SLP has partnered with Sankalp and Pratyusha Support in an attempt to create limitless possibilities for numerous collaborations amongst people who share the same belief. One of the main objectives of this run will be to address issues such as girls being forced to drop out of school and help improve the efficiency of welfare services meant for girls. Last year, SLP was successful in getting 96 girls access to education and this year the run aims to raise enough funds to educate close to 200 girls.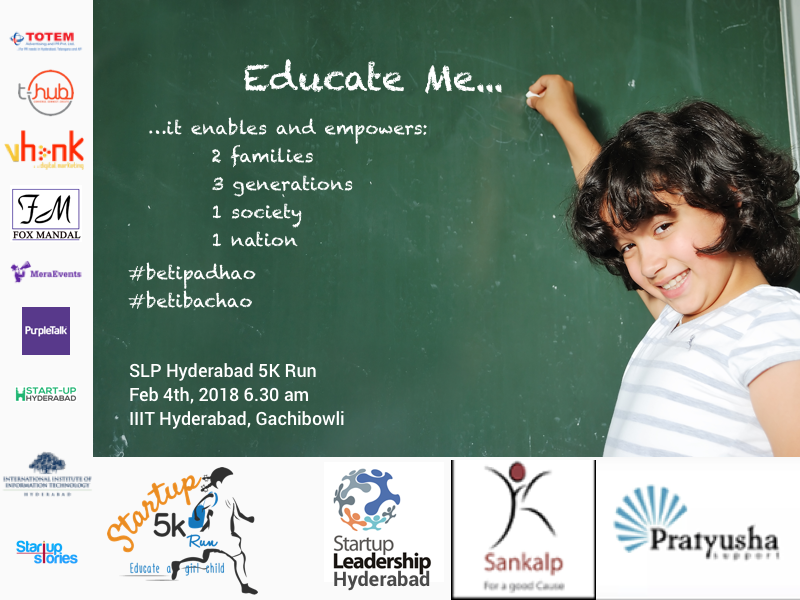 The Startup Leadership Program was first started in Boston in 2006 with seven participants.Today, SLP has helped found more than 1,500 successful startups. Since 2006, the program has grown to 28 cities in 13 countries with 15-25 fellows joining the program in every city, every year. This year, close to 500 fellows will go through the program as a single class.
The Startup 5K Run 2018 will be conducted on 4 February 2018 at IIIT Gachibowli from 6 A.M. Although the Run is promoted by the Startup Leadership Program Hyderabad, anyone can be a part of this initiative. For more details or to register visit – SLP Hyderabad 5K Run 2018
Graduates From The iB Hubs Startup School 2018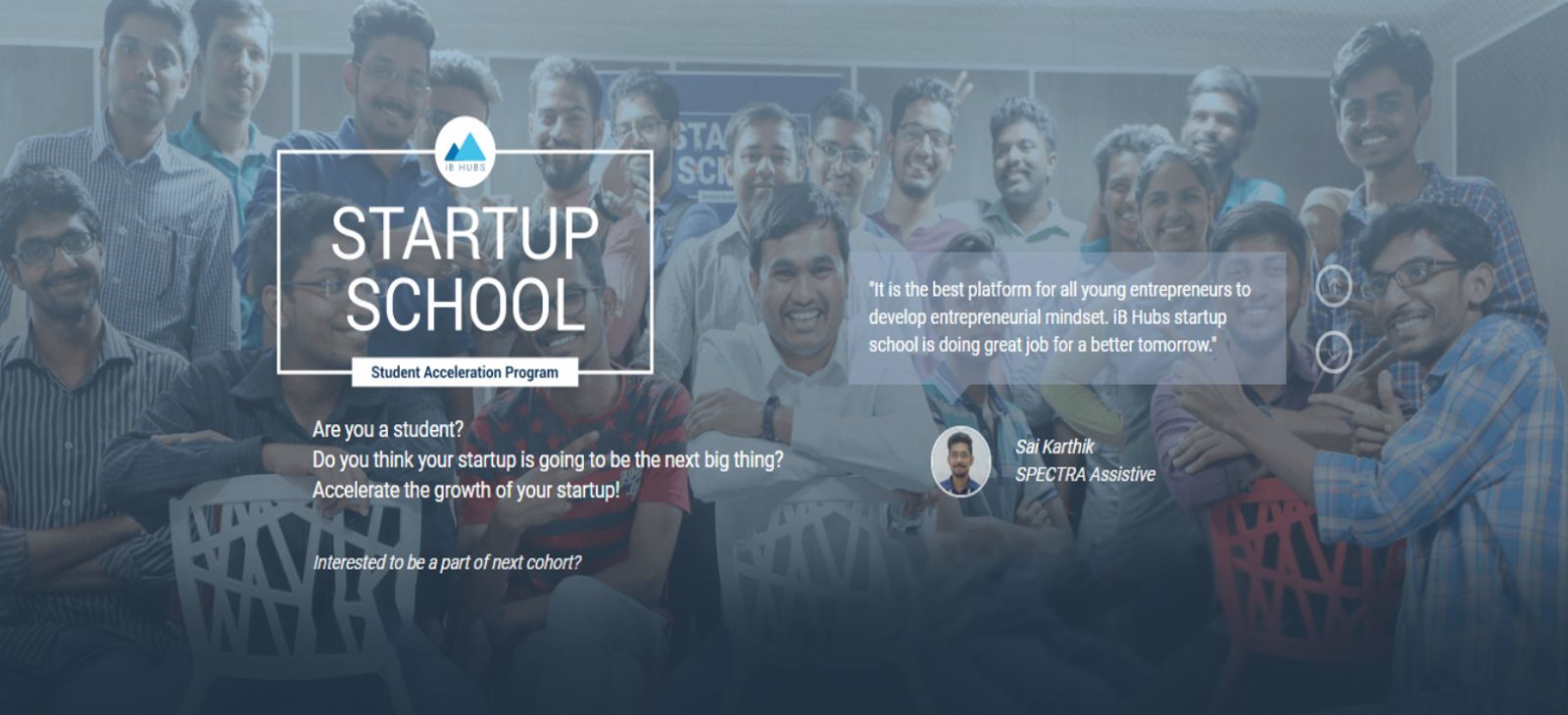 There are loads of startups emerging with each passing day. They are being created in all types of businesses flourishing in India and there is no stopping. One of the biggest weapons a startup could have is an experienced consultant as a co pilot who can save precious time and ensure high quality right from the start. iB Hubs Startup School based out of Hyderabad, is an antidote to budding entrepreneurs. iB Hubs guides you with extensive experiences of intellectuals who will inspire you to build a life and business with ease and passion. This Startup School aims to enhance and support entrepreneurs with the necessary changes and help them build customer centric Minimum Viable Products (MVP.)
Recently, iB Hubs conducted its second edition of a four week acceleration program called the iB Hubs Startup School 2018, exclusively designed for young entrepreneurs. The school charges zero fees and zero equity while providing end to end assistance for startups. This year's event received an enormous response from the first program and a wide range of budding entrepreneurs took part in these groundbreaking sessions! This program helps graduates develop their startup idea and helps to build the pillars for success. Speaking about the number of participants, the masterminds behind iB Hubs said  iB Hubs Startup School '18 received an overwhelming response. The program received 250+ applications from 450+ founders across 130+ institutions in India. 15+ startups secured admission into the program. The startups participate in the program in two cohorts – the first at iB Hubs Hyderabad and the second at iB Hubs Lucknow.
Moving forward, the founders spoke about the funding and about the startups who benefited from this extraordinary program of iB Hubs Startup School, the objective of this program is to help the early stage student startups learn experientially the major elements of building a successful startup. The students graduate from the program with refined business models, polished pitch decks and a greater understanding of their customers. Funding would come into picture after the startups mature further.
The event observed a number of great minds from across India, who shared their ideas and knowledge with the entrepreneurs. The mentors from iB Hubs at the Startup School this year were – Mr. Avinash, alumnus of IIT Kharagpur Mr. Sashank, alumnus of IIT Bombay Mr. Sumanth, alumnus of BITS Pilani Mr. Varun, alumnus of NIT Warangal Mr. Abhinav Pandey, alumnus of BITS Pilani, will join in as a mentor for the Lucknow Cohort. Seasoned entrepreneurs and industry experts who delivered talks are: Satish Kataria, Managing director at Catapooolt, Mayur Sethi, COO, WittyFeed, Mr. Prasanth Lingam, Co-founder, Bamboo House India, Mr. Raj Neravati, CEO, Hug Innovations.
Speaking about the experience, one of the young entrepreneurs present at the event shared at iB Hubs Startup School, we have learnt that, to build a successful startup, it is not only the product that is required, we need to validate the idea, re orient ourselves in a customer centric approach & build strategic business models, and we have learnt how to implement them, says the founder of a tech startup. "This accelerator can be a game changer for the founders because you may not know all the things which are really really important in running a successful business. You will learn them from experienced mentors here.
From entrepreneurs to startups, everyone was overwhelmed with the kind of knowledge they gained in these remarkable startup sessions. One of the Startups' spokesperson quoted after the sessions, they realised what they are learning at iB Hubs Startup School is very essential to them, both in product development and customer acquisition. This was exactly what they have been looking for. They also shared their happiness about the six month execution plan they chalked out for their startups during the program.
When it comes to mentors and guest speakers, they shared their views with respect to the startup schools.  Mr. Mayur Sethi, COO, Wittyfeed said startup school is a temple for the student entrepreneurs.
The brainchild of the homegrown tech firm Hug Innovations, Mr. Raj Neravati said I was pleasantly surprised that with no cost and no equity, so much of ecosystem and passion is built. I'm delighted to hear that, these kind of ecosystems exist.
This platform is extremely efficacious and worthwhile for all the homegrown startups. Mr. Satish Kataria, Managing Director and Co founder of Catapooolt added, I think iB Hubs Startup School is very much essential and much needed boost-up for Indian startup ecosystem and especially student startups.
The mentors present at the Startup School shared their views and experience about this remarkable program.  we are amazed to see the enthusiasm of the student entrepreneurs. Their eagerness to learn never ends. They are proactively interacting with mentors and fellow startups to improve their idea. Their focus is only on making their solution better and better said Mr. Varun, VP Corporate Relations, iB Hubs.
At iB Hubs Startup School '18, we have a diverse cohort of startups from various fields ranging from agriculture to advanced technologies. The student entrepreneurs are very enthusiastic to learn and are making great progress every week said Mr. Avinash Thavva, Mentor, iB Hubs Startup School.
The masterminds behind this remarkable Startup School '18 shared their expectations from the 2018 batch in terms of success and future plans. They said, the objective of this program is to build role models in the society to promote entrepreneurship. The success of student entrepreneurs goes beyond solving problems and building a successful company it has a far reaching  impact. It inspires many students to pursue entrepreneurship. iB Hubs Startup School is our humble attempt to guide these youngsters and accelerate their progress. The startups graduated from the previous cohorts are doing great. They raised funds, acquired customers, and won awards and accolades in major competitions. Some of them are setting up entrepreneurship cells in their colleges to encourage fellow students to become entrepreneurs. They are sharing their knowledge and spreading the culture. We are sure that we'll see similar results from this year's cohort.
Moving forward, iB Hubs Startup Schools' intellects shared their perspective with regards to this year's experience when compared to the past year. They added the program has become more experiential. The sessions constitute only 10 % of the time. Rest of the time, they meet their potential customers and entrepreneurs in similar domains, and implement the insights from the discussions to improve their business models. They have extensive one on one mentoring sessions to refine them further.
Just as emerging markets require innovation to grow and keep pace with market needs, startups are increasing in India by the minute with wonderful ideas in all possible sectors. At the end of the day, we wish all the graduates from the iB Hubs Startup Schools, a great and wonderful future ahead.
For more news from the startup world, visit our website.
Netherlands To Setup 'Startup Link' In Collaboration With India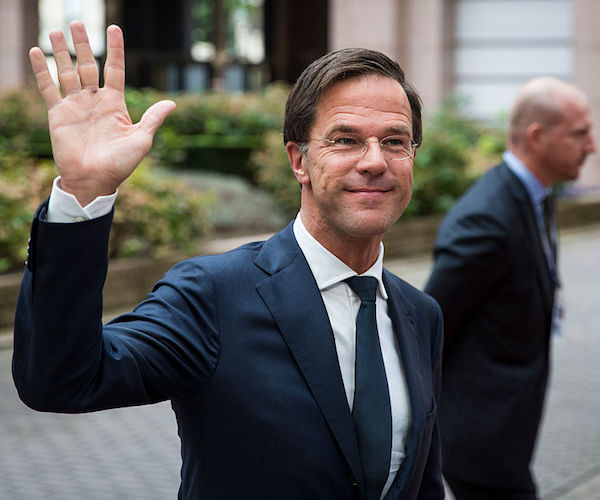 The Prime Minister of Netherlands, Mark Rutte is all set to visit Bengaluru on 25 May.
The Country wants to strengthen  the innovation ecosystem with India efficiently. This comprises the setting up of Startup Link in India. Startup Link is an umbrella initiative in order to help Dutch startups explore the Indian market. This trip for Mark Rutte plays a vital role in pertaining to Netherland's focus toward India.
It could also be understood by the fact  with a 120 member business trade delegation, with two ministers and the mayor of the Hague to Bengaluru, the Netherlands-India delegate is the country's largest delegate to any foreign country!
Even larger than that of Netherland's recent visit to China.
The Netherlands Minister for Foreign Trade and Development Cooperation, Sigrid Kaag, is expected to launch the Indo-Dutch Startup Link Digital Hub, on 25 May.
According to a source, Consul General Jaap Werner stated,
The delegates will be visiting Delhi, Mumbai and Bengaluru, signing a number of MoUs to promote technology and Innovations at all levels universities to SMEs and corporates. In Bengaluru alone, we are expecting to sign 15-20 MoUs. The Bengaluru visit will focus to strengthen the bilateral trades and relationships in the areas of healthcare, smart cities, life sciences, waste management and cybersecurity.
Recently, Netherlands also upgraded its Bengaluru, South India office to a fully operational Consulate General. It also amalgamated various ministerial departments under one roof.
The Senior Deputy Representative Consulate General Of Netherlands, Bengaluru, Meenakshi P.R., stated that the Consulate General would also help Dutch startups soft launch in Indian territory, specifically in Bengaluru.
She also added,  IoT, 3D Printing, cybersecurity and blockchain are some of the areas where the startups under startup link can collaborate.
Apart from that, the events on 25 May also include an 'Innovation power lunch' where the Dutch PM will meet 30 top Indian CEOs.
However, there are over 200 Netherlands companies operating in India. While India is the fourth largest investor in the Netherlands, the latter stands fifth in India.
There are plenty of opportunities and challenges to do business in the Indian market. India has been abuzz with Startup culture now!
iB Hubs Startup School Second Edition – Zero Fee, Zero Equity!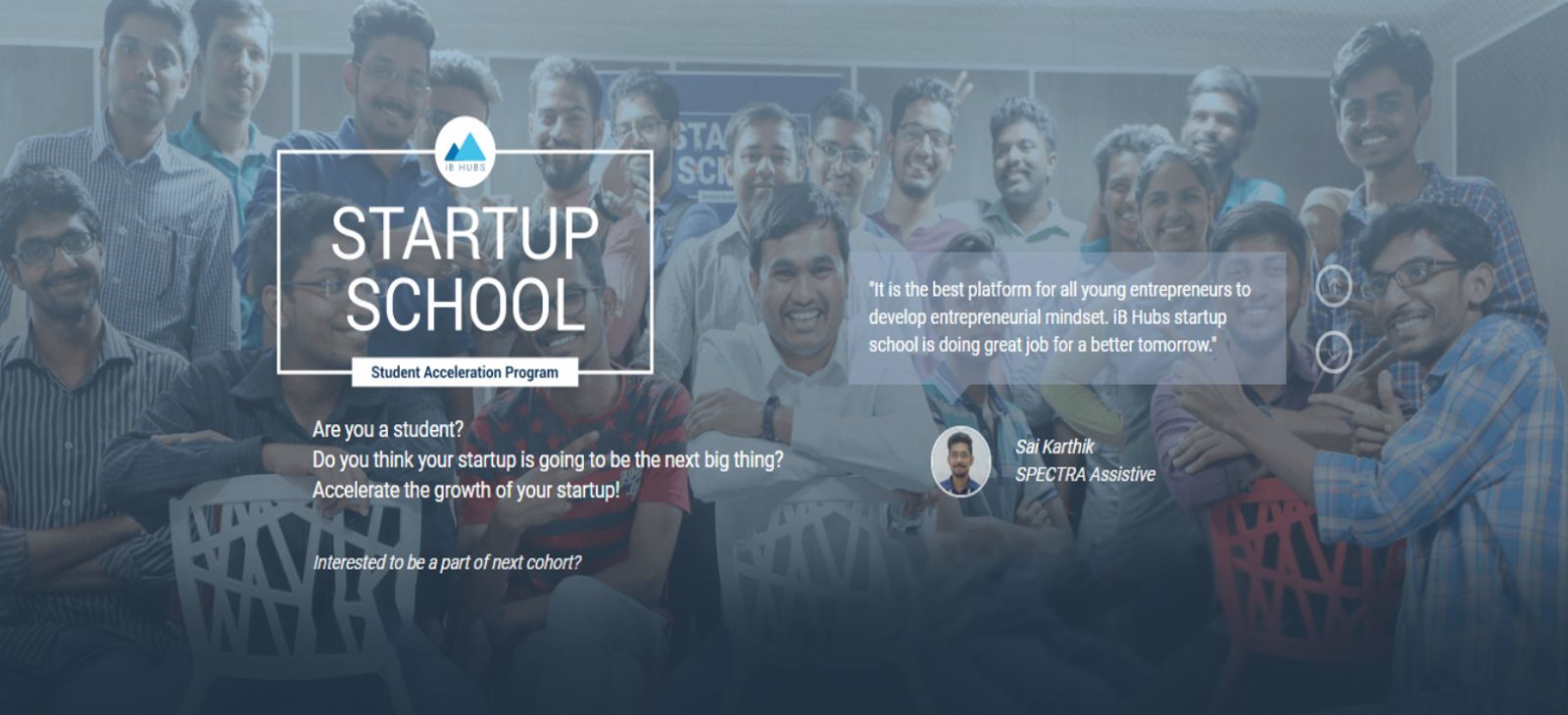 In India's fast paced and constantly developing startup ecosystem, startup accelerators and incubators play a major role in helping new firms develop and grow. Following a similar strategy, iB Hubs is back with its second edition of iB Hubs Startup School. This four week acceleration program specially designed for student entrepreneurs is a  unique program that charges zero fee and zero equity and provides end to end assistance to startups.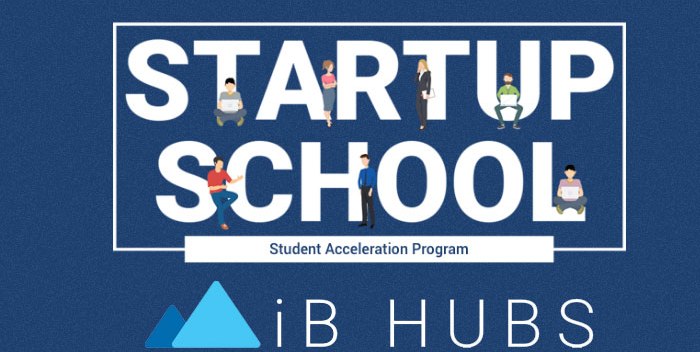 iB Hubs Startup School envisions to develop a culture of innovation and entrepreneurship in every nook and corner of India. Initiated in 2017, the Startup School aims to empower and support student entrepreneurs, helps them undergo the necessary changes, build customer centric Minimum Viable Products (MVP) and explore new channels for traction. Last year, the accelerator program received a huge response from the startup ecosystem and student community alike for their one on one mentoring sessions, empathy experiments, expert talks and much more.
The Chief Executive Officer of iB Hubs, Ms. Radha Alekhya speaking about the program said, "This initiative is focused towards instilling entrepreneurial mindset among youngsters and build role models in the society. Encouraging innovations from students would take India forward and thus bring a phase shift in the country."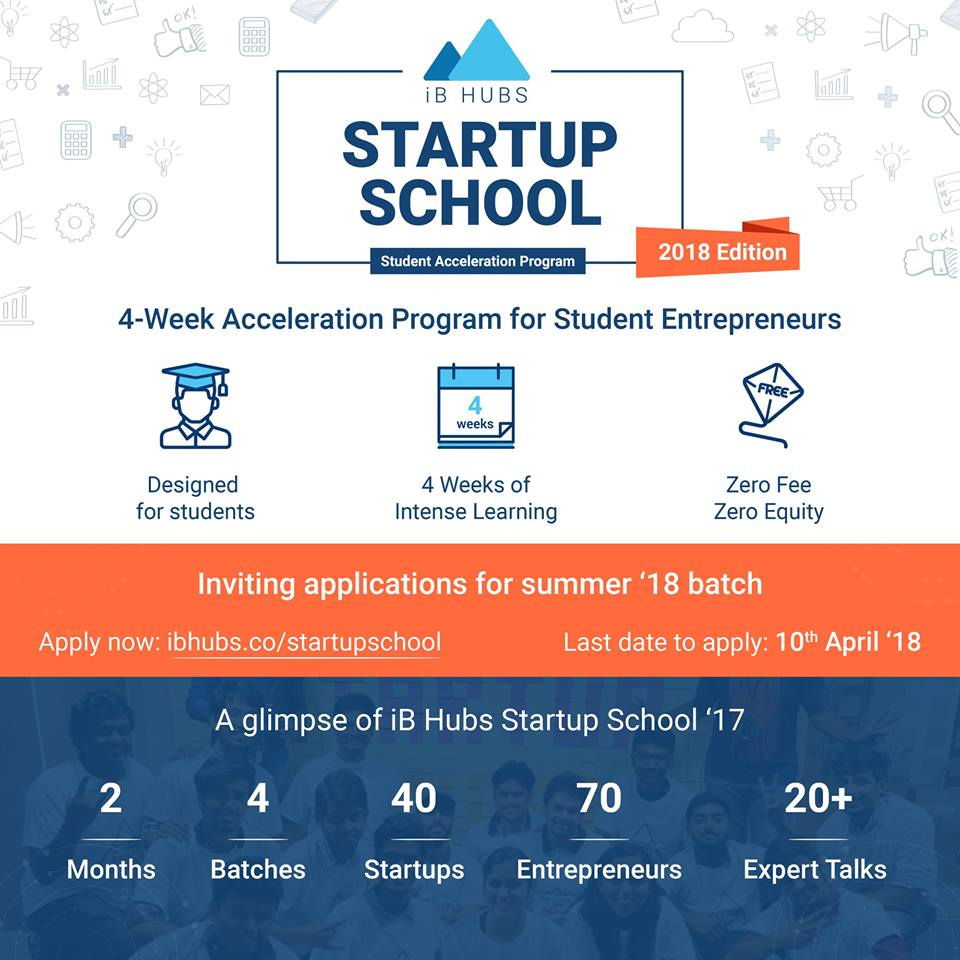 Startup School 2017 saw participation from more than 550 applications from 23 states and close to 160 educational institutions encapsulating the diversity of the Indian startup ecosystem. Out of the 550 plus applicants, 70 entrepreneurs and 40 selected startups were given the opportunity to meet the Honorable Governor of Andhra Pradesh and Telangana, Shri. E.S.L. Narasimhan to discuss the potential impact of their initiatives. The selected startups work in fields ranging from advanced technologies like the Internet of Things (IoT,) and Virtual Reality, to fundamental problems in the society like waste management and malnutrition among others.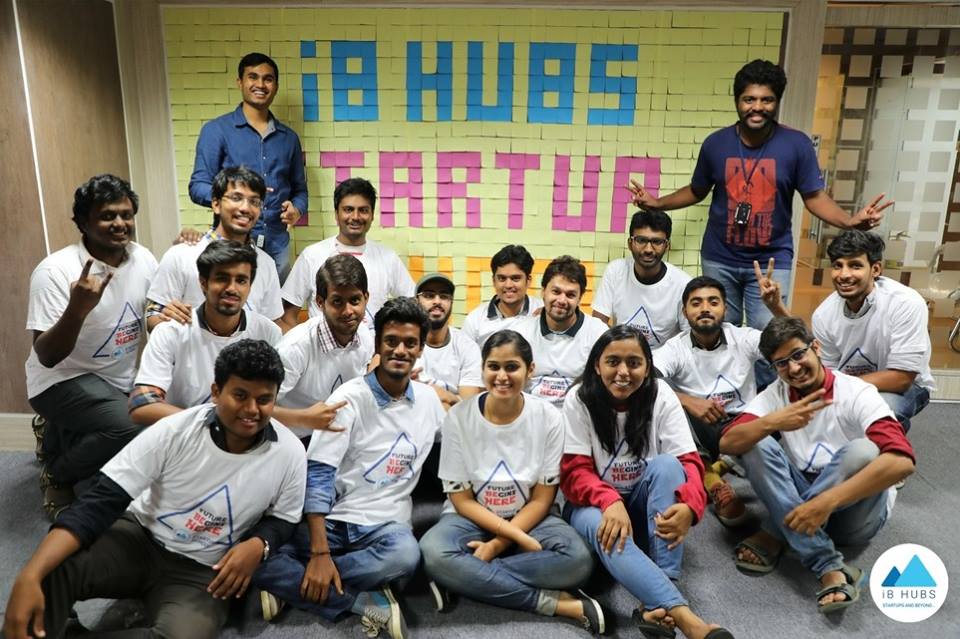 Post the end of the program, the selected startups also receive constant support and guidance in several aspects of their work in the form of mentoring, business plans, product development, marketing, etc. The iB Startup School aims to help startups lay the foundations for a strong team culture, master the art of fundraising and create a positive impact on the entrepreneurial ecosystem in the country. So far, close to 450 applicants have already registered for the program substantiating the fact that enthusiasm towards entrepreneurship is growing at a rapid pace within the student community.
For more information, queries and registration details visit iB Hubs Startup School '18.